Frequently Asked Questions
Get answers to the most common questions we get asked about purchasing, editing and supporting our Hubspot Templates like FlexHUB and Modern Vid.
Click on The Questions To Open The Answer
How do I install or use the template after I've purchased it?
Setup & Installation – Site Pages & Landing Pages
Once the template is transferred, there is no setup! Just go to Website or Landing Pages under Content and Create a new page. Your new template should immediately be available and it will pre-load all the styles and content you saw on the LIVE DEMO before you purchased it.
Setup & Installation – Blog
Go to Content > Content Settings. Then look at the left side navigation and select Blog. Make sure you select a blog to modify from the dropdown, then scroll down to the Templates section and choose FlexBLOG from the list. Then click on Save Changes.

Locating Templates in the Design Manager
You can locate your purchased template in the Design Manager using the steps below:
Go to the Design Manager under Content.
Your template will be under the Purchased section in the left-side navigation.
Using The Template
When you create a new page, each one will load with all the preset designs from the LIVE Demos every time. If you click on the left option sidebar in the Hubspot editor, you will find the full list of customizable options for each template. Each option has label that clearly describes what it will edit/change.
Support
If this all seems too complicated for you, please don't hesitate to reach out to templatesupport@beginbound.com.
Can you help me setup my template after I've purchased it?
Absolutely. We are 100% committed to great custom service. We offer free general support and initial setup to all customers who have purchased a template or pack from us. After purchasing, simply send an E-mail to templatesupport@beginbound.com from the E-mail you used to purchase/register the template on the Hubspot Marketplace!
What if I want to modify my template? Can you help me?
We try to provide you with as many options as possible so that you can build and design with these templates on your own. However, if you need a template modified for a specific purpose, please contact templatesupport@beginbound.com and tell us what you require. Ultimately, we want you to have an excellent experience with us. So if it's a simple question, we will answer it and help you. However, if you do require special custom work, we offer discounts on our hourly rates for current customers who have purchased our templates.
Customer Loyalty Discounts
Purchased one template from Begin Bound, LLC = $5/Hour RATE DISCOUNT
Purchased a full pack or 10+ templates from Begin Bound, LLC = $10/Hour RATE DISCOUNT.
How Do I Edit My FlexBLOG Styles?
Because Hubspot does not provide an editor for main Blog Templates, we are limited by how much customization we can provide. The Blog Post editor has options in it but they only apply to the individual post. To edit styles on that main blog page, you must make edits to the CSS and unfortunately there is not a better way at this time. However, by changing a few simple variables in the CSS, you can customize the colors of your blog.
To find these options you need to go to Design Manager > Purchased (There are two, so make sure you scroll down to the 2nd one on the sidebar) > flexhub.css – Then find the code below: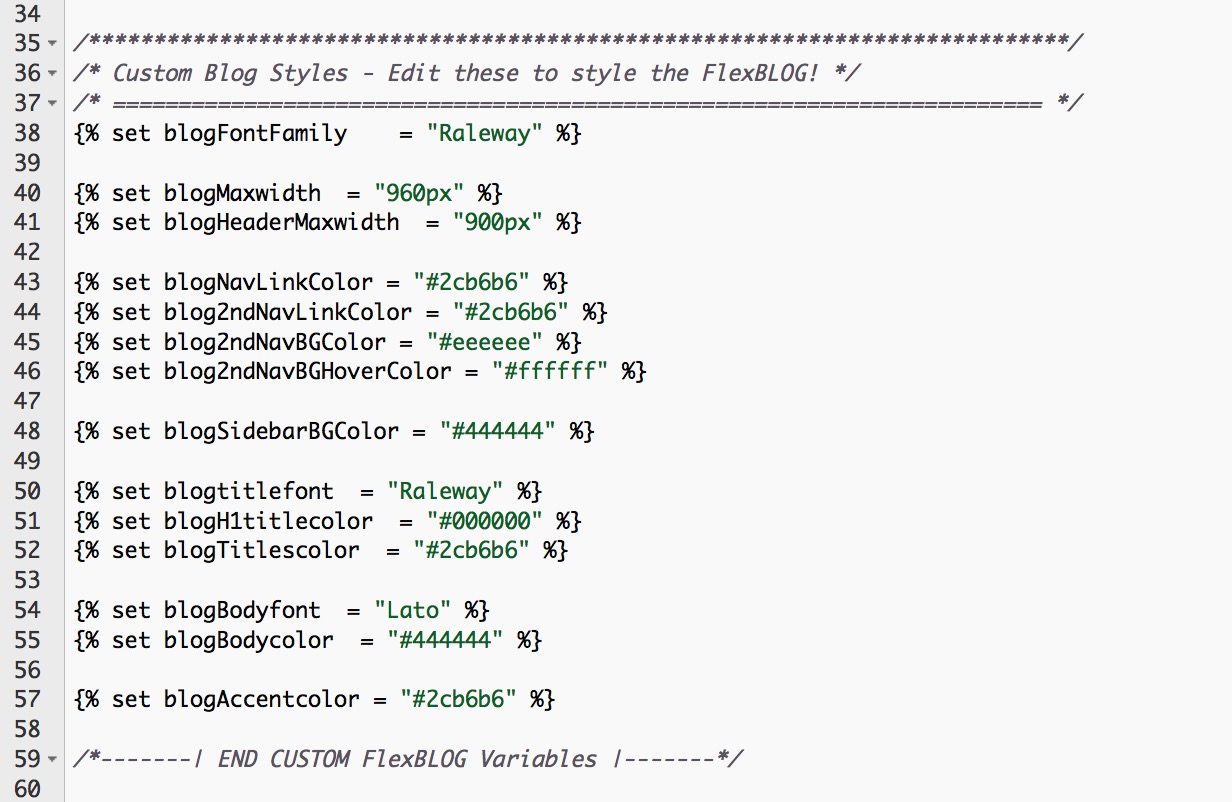 The HEX numbers are colors (e.g. #000000 = Black).
To change the font, you have to add the font to the file. Go to https://www.google.com/fonts and click on this little button on the font that you want to use for your blog –

Then select the following @import code and add it to the VERY TOP of the flexhub.css file:
ADD TO TO TOP OF FILE HERE:
Once you've pasted in the code to import your font, you only have one step left!
You need to type the name of the font you have choosen into the variables in the CSS file. There are two options for body fony and title font (in case you want them to be different). Here is what they both look like and what line they are on in the CSS:

Once you've done that you just need to click the GREEN BUTTON to Publish the changes and you're good to go!
What is an MP4 or WEBM?
An MP4 is the abbreviation for MPEG-4, which is a common video format/type. WEBM is another format/type of video. If you have a video that you would like to use on your page, you need to use one that is an MP4 or WEBM version or convert your video into one or both of those formats. Our templates allow you to use one or both of these formats on your page so that it is compatible with the most devices to work on. You don't have to have both, but we recommend that you do.
Why can't I see my background video on my iPad, tablet or mobile phone?
Background videos do not work (or work well, at least) on many mobile browsers and tablets. Videos are also usually larger files (anywhere from 3MB to 20MB in size) and asking someone to wait while they load that on their mobile data plan is not a good user experience. We have coded the template to remove the video and show to your background image on tablet and mobile. If your image does not work or you do not provide one, then the template will default to a background color.
What is your refund policy?
Our goal is to provide you with excellent customer service and support. Our policy is to take things on a case-by-case basis, so if you have any issues or are not happy with your template, please don't hesitate to contact us at templatesupport@beginbound.com so we can help resolve your concerns.
Can I reuse these templates for other projects or clients?
The purchase of a template is currently for a single use only on the Hubpsot Marketplace. We are planning to offer developer and multi-use licenses in the future, however they are not available in the Hubspot marketplace at this time. You can reuse any templates you purchase as much as you want on a single Hubspot portal. However, if you'd like to use them on another portal, domain or client, you will need to login to their Hubspot account and purchase another copy of FlexHUB.
Any Hubspot user found to be transferring FlexHUB to multiple portals without purchasing (yes, we can track it) can be subject to penalties up-to-and-including fees, account suspension and further legal action. We've priced our templates reasonably so that FlexHUB is affordable for everyone. If you have any questions or concerns please feel free to reach out to templatesupport@beginbound.com.
I don't have any videos yet. Where can I find background videos that I can legally use?
There are many options online to find background videos you can use for both commercial and non-commercial use that are already in the format you need them. Here is a short list of places where you can find some:
*Note: We are not affiliated with, liable for recommending, nor receive any compensation from recommending any of these sites. This is just to try and be helpful.*
How do I pick the right video for my content so it looks good?
Some of this is preference, but a lot of it boils down to two key things:
Make sure the video makes sense and enhances the message of your content.
Make sure you can read your message clearly on top of the video.
We have created lots of customization options to make sure you can select the right colors (dark, light or custom) that will read the best on top of the video you select. We also have containers that you can put behind your content as well to help with this. For more help, check out our blog post, "5 Tips For Choosing The Right Background Video For Your Webpage."